ABOUT MIND THE BAR
It started with a Facebook post. Founder Shoel Davidson wrote an honest account of a difficult year – from a major depressive episode and suicidal thoughts to finding a therapist and discovering new tools for coping with what he knew would be an ongoing process, and the frustrating time he had trying to find the resources he needed in those moments of crisis.
Over that year, he started conversations with his business partner, who also felt the frustration of not knowing how to help, who to reach out to, to help her friend. They, in turn, started to discuss the obvious issue with their peers – the restaurant industry is woefully underprepared and undereducated to deal with an omnipresent mental health crisis that has run rampant for decades, leaving a destructive trail of addiction, self-harm, and loss.
Those peers became the founding board for Mind The Bar, and their vision is what you see before you, and beyond.
At its core, Mind The Bar is a mental health resource, information & support system, and community hub designed for the hospitality industry, that focuses on the major issues of depression, anxiety, addiction & workplace harassment.
Its goal is to ultimately dismantle the negative stigma associated with mental health by changing the way we discuss, address & cope with it.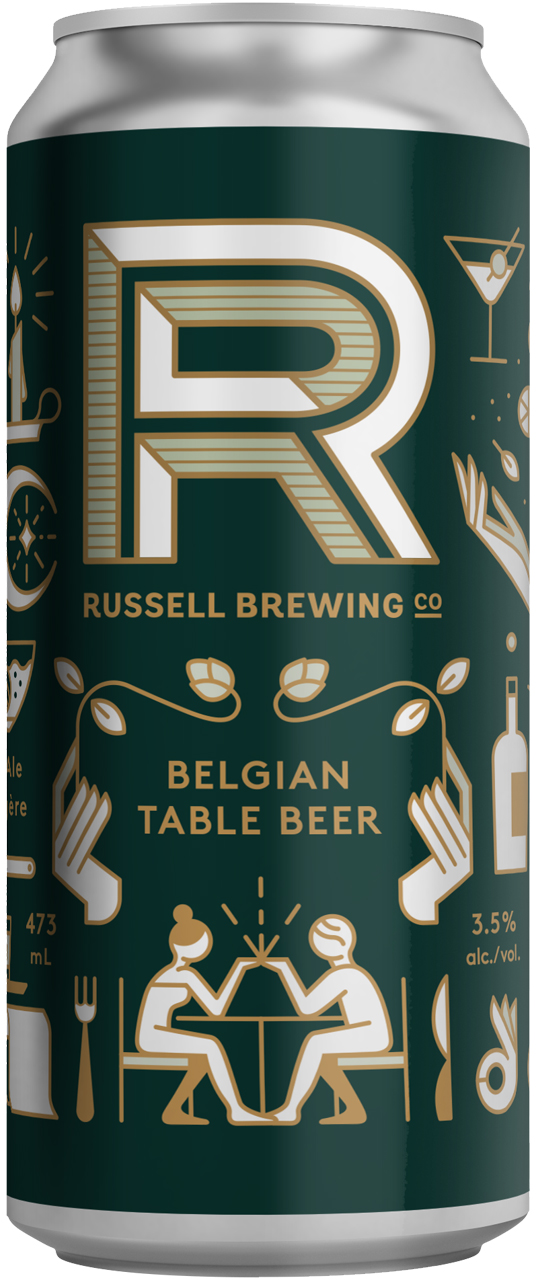 Russell Brewing and Mind the Bar have come together to create a low alcohol Belgian Table Beer. Partial proceeds from each 4 pack and keg sold will be donated to Mind the Bar Canada.
4 x 473ml – 0.50¢
19.5L – $5.85
30L – $9.00
50L – $15.00
About The Beer 
ABV 3.5% IBU 20
A Belgian table beer brewed with spelt and a healthy amount of flaked wheat. hopped with Saaz and fermented with Belgian Trappist yeast.
DEPRESSION
After years of working hard at your job each day, you've just been laid off. You feel sad, tired and emotionally drained. The last thing you feel like doing is getting out of bed in the morning. This sadness is a natural part of being human and feeling this way for a few days is normal. In fact, many people hear people say "I'm depressed" in their day-to-day life when they are talking about that low feeling that we can all have from time to time. But if these sad feelings last for more than a couple of weeks and you start noticing that it's affecting your life in a big way, you may be suffering from an illness called depression. Depression, also known as clinical or major depression, is a mood disorder that will affect one in eight Canadians at some point in their lives. It changes the way people feel, leaving them with mental and physical symptoms for long periods of time. It can look quite different from person to person.
Depression can be triggered by a life event such as the loss of a job, the end of a relationship or the loss of a loved one, or other life stresses like a major deadline, moving to a new city or having a baby. Sometimes it seems not to be triggered by anything at all.
One of the most important things to remember about depression is that people who have it can't just "snap out of it" or make it go away. It's a real illness, and the leading cause of suicide.
Who does it affect? Depression can affect anybody; young or old, rich or poor, man or woman. While depression can affect anyone, at anytime, it does seem to strike most often when a person is going through changes. Changes can be negative life changes such as the loss of a loved one or a job, regular life changes such as starting university or a big move, or physical changes such as hormonal changes or the onset of an illness.
Because depression can be linked to change, certain groups of people are at risk more often than others:
Youth: More than a quarter of a million Canadian youth—6.5% of people between 15 and 24—experience major depression each year. Depression can be hard to recognize in youth because parents and caregivers often mistake a teen's mood swings and irritability for normal adolescence, rather than depression. Studies have shown that gay, lesbian, bisexual or transgendered youth have higher rates of major depression.
Older adults: Around 7% of seniors have some symptoms of depression. This can be brought on by the loss of a spouse, a shrinking circle of friends or the onset of an illness. It's also much more common among seniors living in care homes or who have dementia. Depression in people 65 and over appears to be less common than in younger groups, but researchers aren't sure if this is a real difference or an issue with the research questions. It's likely that depression is at least somewhat under-recognized in seniors. Some symptoms like changes in sleep or activity levels may be mistaken as signs of aging instead of depression.
Women: Depression is diagnosed twice as much in women as it is in men. Some reasons for this difference include life-cycle changes, hormonal changes, higher rates of childhood abuse or relationship violence, and social pressures. Women are usually more comfortable seeking help for their problems than men which likely means that depression in men may be highly under-reported. Men generally feel emotionally numb or angry when they are depressed whereas women usually feel more emotional.
People with chronic illness: About one third of people with a prolonged physical illness like diabetes, heart disease or a mental illness other than depression, experience depression. This can be because a long term illness can lower your quality of life, leading to depression.
People with substance use problems: There is a direct link between depression and problem substance use. Many people who are experiencing depression turn to drugs or alcohol for comfort. Overuse of substances can actually add to depression in some people. This is because some substances like alcohol, heroin and prescription sleeping pills lower brain activity, making you feel more depressed. Even drugs that stimulate your brain like cocaine and speed can make you more depressed after other effects wear off. Other factors, like family history, trauma or other life circumstances may make a person vulnerable to both alcohol/drug problems and depression.
ADDICTION
The term "addiction" can mean many things to many people. For our purposes we define addiction as follows: Addiction is the repeated involvement with a substance or activity, despite the substantial harm it now causes, because that involvement was (and may continue to be) pleasurable and/or valuable.
There are four key parts to this definition of addiction:
Addiction includes both substances and activities (such as sex and gambling).
Addiction leads to substantial harm.
Addiction is repeated involvement despite substantial harm.
Addiction continues because it was, or is, pleasurable and/or valuable.
ANXIETY
Anxiety is an emotion characterized by feelings of tension, worried thoughts and physical changes like increased blood pressure. People with anxiety disorders usually have recurring intrusive thoughts or concerns. They may avoid certain situations out of worry. They may also have physical symptoms such as sweating, trembling, dizziness or a rapid heartbeat
WORKPLACE HARASSMENT
HARASSMENT Examples of what constitutes harassment when repeated or one single severe event
Preventing a person from expressing himself or herself: yelling at the person; threatening; constantly interrupting that person; prohibiting the person from speaking to others.
Unwanted sexual advances which may or may not be accompanied by threats or explicit or implicit promises.
Making rude, degrading or offensive remarks.
Making gestures that seek to intimidate.
Engaging in reprisals for having made a complaint under this Policy.
Discrediting the person by spreading malicious gossip or rumors, ridiculing him/her, humiliating him/her, calling into question his/her convictions or his/her private life, shouting abuse at him/her.
Compelling the person to perform tasks that are inferior to his/her competencies that demean or belittle him/her, setting the person up for failure, name-calling in private or in front of others.
Isolating the person by no longer talking to him or her, denying or ignoring his or her presence, distancing him or her from others.
Destabilizing the person by making fun of his or her beliefs, values, political and/or religious choices, and mocking his or her weak points.
WANT TO DONATE?
Mind The Bar is 100% volunteer-based, and depends on donations, sponsorships and time-based donations to maintain its programs and continue to grow.
We thank you for your donation! Please keep checking in to see how your generosity supports mental health wellness in the hospitality industry.
If you are interested in supporting us with your time or are looking to sponsor events, please get in touch with us at info@mindthebar.com
300+ PARTICIPATING LOCATIONS
| | | |
| --- | --- | --- |
| #016 Golden | Coal Harbour LRS | Otter Farm & Home Co-op |
| #006 Semiahmoo | Colony – North Shore | Outpost Liquor Store (The) |
| #033 Port Place | Colony Bar (The) | Paddlewheeler Liquor Store |
| #038 Marpole | Colony Main Street | Pagliacci's (61079) |
| #053 Harbour Center | Community Spirits LRS | Parkside Brewery |
| #065 Haney | Container World Forwarding Service Inc. | Pawnshop (Sip Lounge) |
| #070 Cloverdale | Cook Street Village Liquor(195480) | Peacock's Perch LRS (195186) |
| #072 Ambleside | Cork & Barrel Spirit Merchants | Peckinpah |
| #089 Nicola Station | CREUS Engineering Ltd. | Pemberton Hotel LRS |
| #090 Jericho Village | Crooked Goose Bistro | Pender Harbor Golf Course |
| #094 Bute Street | Crosstown LRS | Prairie Inn LRS |
| #097 Royal Square | Dixie's | Quarterway LRS |
| #102 Dunbar | Dollarton LRS | Queens Cross Beer & Wine Store |
| #107 Westview | Eastside Boxing Gym | Quinsam Liquor Store |
| #109 Aldergrove | Edgemont LRS | Richmond Country Club |
| #111 Commercial | Eldorado Liquor Store (Squamish) | Riders Pizza |
| #113 Collingwood | Fitzsimmons Pub (The) | Rivers Reach LRS |
| #117 Broadway & Maple | Flight Centre Travel Group | Robson Wine Beer Spirits |
| #120 Ironwood | Flying Canoe West Coast Pub | Rodney's Oyster House – Gastown |
| #123 Kingsgate Mall | Four Mile Colwood | Rolands LRS |
| #127 Fort Langley | Fox & Fiddle Pub | Romer's Burger Bar-Kitsilano |
| #129 Alberni & Bute | Garrison Wine & Liquor Merchants | Safeway Liquor-Mackenzie Mall |
| #133 Dollarton Village | Gilligan's Liquor Store | Sea to Sky Hotel LRS |
| #136 Arbutus | Golden Ears Liquor Store | Select Liquor Store |
| #145 Scottsdale | Gorge Point Liquor Store | Seymours Pub |
| #149 Abbotsford | Grand Villa Casino & Hotel | Shady Rest. Liquor Store |
| #152 Capilano Mall | Green Rock Liquor Store | Shark Club of Langley |
| #153 Como Lake | Gringo Gastown | Six Mile Liquor Express |
| #158 Langley | Guildford Station LRS | Southpoint LRS |
| #160 39th & Cambie | Gull Liquor Store | Speeds Liquor Store |
| #165 Meadowtown | Handle Bar | Spinnakers (195209) Vic West |
| #167 Kelowna Orchard Park | Henry's Public House | Spinnakers at James Bay |
| #170 Sardis | Heron Rock Bistro | Spirits of Mt. Seymour |
| #175 Caulfeild | Hideaway Liquor Store (195222) | Squamish LRS |
| #177 8th & Cambie | High Point  Beer Wine Spirits (Hastings LRS) | St. Augustine's |
| #178 Fairfield | Hillside LRS (195319) | Steamworks Beer & Wine |
| #179 Whistler Marketplace | Hotel Belmont | Strath Ale Wine & Spirit Merchants (The) |
| #182 Fleetwood | Hotel Rialto liquor (195111) | Study Public House Ltd. |
| #183 Peninsula Village | Irish Heather (The) | Sullivan Liquor Store |
| #191 Yaletown | JAK's Coquitlam Central | Sully (Sullivan) Liquor Store – 191321 |
| #194 Champlain Square | Jak's Maple Ridge | Sumas Liquor Store (195422) |
| #195 Whistler Creekside | JAK's New West | Sumas Mountain Liquor Store (195178) |
| #196 Esplanade | Jaks Dunbar | Swiftsure Beer, Wine & Liquor |
| #203 South Burnaby | Jaks Fleetwood | Taps & Tacos |
| #205 Port Moody | Jaks Granville Liquor Store | Terminal LRS (The) |
| #208 Squamish | Jaks Westwood Liquor Store | The Bottle Shop |
| #217 North Burnaby | Jamjar Canteen – Commercial Drive | The Clayton Public House |
| #220 HighGate Village | Jericho Corner Liquor Store | The Landing LRS (Island) |
| #230 Sechelt | John B Liquor Store | The Other Liquor Store |
| #233 Robson Street | John B Pub | Thrifty Foods Liquor-Salt Spring(195153) |
| #237 28th & Main | Johnson Street Liquor Store | Toby's Cold Beer & Wine-LRS |
| #241 Nordel Crossing | Kitchen Concession (Langley Golf Course) | Toby's Pub-Commercial |
| #243 Nanaimo | Landlubber LRS | Town Hall – Coquitlam |
| #247 Lynn Valley | Langbay RAS | Town Hall Abbotsford |
| #300 Broadway & Lillooet | Lansdowne Central LRS | Town Hall Public House – Langley |
| #302 Whistler Village | Las Margaritas | Trading Post Brewing |
| 14th Ave Pub | Leeward Liquorstore | Tudor House LRS (Island) |
| 4 Mile LRS on Admirals | Legacy Liquor Store | Ucluelet Lodge Liquor Store (195435) |
| Acorn Restaurant (The) | Liquor Barn – Burnaby | Upper Ganges LRS |
| Aldergrove LRS | Liquor Barn – Clearbrook | Uptown LRS |
| Anatoli Souvlaki | Liquor Barn – Langford | Urban Liquor Store |
| Bells & Whistles | Liquor Barn-Cambie | Vancouver 1st Ave Liquor Store |
| Berezan LRS – Willoughby | Liquor Depot – Abbotsford | Veneto Lounge |
| Beverly Corners Liquor Store | Liquor Depot – Coquitlam (195442) | Vessel Liquor Store |
| Biercraft – Cambie | Liquor Depot – Crossroad (195445) | Vij's Restaurant |
| Biercraft – Commercial | Liquor Depot – Fleetwood | Village Wine Shop |
| Biercraft – UBC | Liquor Depot at Surrey (88th Ave) | Waterwheel Liquor Store |
| Billy Miner Pub | Liquor Express – Esquimalt (195344) | Welcome Woods RAS |
| Bird of Paradise LRS | Liquor Express – Keating (195191) -LRS | Whistler Liquor Store |
| Black Creek RAS | Liquor Express – Yates | White Whale (The) |
| Black Sheep LRS | Liquor Giant | Wild Tale – Olympic Village |
| Blackcomb LRS | Liquor Plus – Cobble Hill (195339) | Wild Tale – Yaletown |
| Blackfish LRS | Liquor Plus – Duncan | Witch Craft Pub |
| Blind Bay Village Grocer | Liquor Plus – Saanich Centre (195305) | |
| Brewery Creek Liquor Store | Liquor Plus-Courtenay | Witch of Endor Liquor StDevine Wine & Spirits |
| Broadway LRS | Liquor Quicker | Downtown Liquor |
| Browns Socialhouse – McCallum | Little Mountain Liquor Store | LA Liquor |
| Browns Socialhouse Semiahmoo | Lucky's Liquor Store (195503) | Color De Vino |
| Burrard Liquor Store | Magnolia Hotel The Courtney Room | Liquor Depot at Capilano |
| Cabrito Tapas | Maple Ridge Liquor Store | Liquor Depot at Manning Town Centre |
| Caddy Bay LRS | Matticks Liquor Plus (195228) | Liquor Depot at Signal Collective – |
| Capone's Cellar LRS | Memphis Blues – Commercial | A Craft Beer Shop |
| Caps Liquor Store | Merecroft Village LRS | Sherbrooke Liquor |
| Cascadia – Colwood (195066)-LRS | Metro Liquor – Brentwood Bay | Sundance Wine Market |
| Cascadia – Crown Isle (195449)-LRS | Mid Island Liquor – Parksville | Beer Revolution |
| Cascadia – Langford-LRS | Mile One Eating House | Brewer's Apprentice Inglewood |
| Cascadia – Quadra Village (195499)-LRS | Mission Springs LRS | Oak & Vine |
| Cascadia – Uptown (195491)-LRS | Mission Springs Pub | J Webb Market Wines |
| Cascadia Liquor-Eagle Creek Inc.-LRS | Mountain Retreat Liquor Store | Liquor on McLeod |
| Cascadia-Nanoose Bay | MSK Private Sale – Doug | Sierra Springs Liquor |
| Cat & Fiddle Pub | Nanaimo town Centre Liquor Store | Superior Liquor Mart |
| Cedar Cottage Neighborhood Liquor Store | Newport Liquor Store | Liquor Depot at Brentwood |
| Central City Liquor Store | Nomad | Oak & Vine Wine & Spirits |
| Charles Bar (The) | Nook Restaurant | Liquor Depot at Altadore |
| Churchill | North Shore Liquor Shop Lynn Valley | Liquor Depot at Mount RoyalWillow Park |
| City Hall LRS | Northgate Liquor Store | Wine & Beyond Emerald Hills |
| Civic Restaurant Ltd. DBA-Dominion Bar + Kitchen | Northview Clayton LRS | Wine & Beyond Windermere |
| Clarke & Co. | Oak And Thorne Public House | Wine & Beyond Southgate |
| Clayburn Liquor Store | Ocean LRS | Wine & Beyond Sage Hill Crossing |
| Clayton Liquor Store | Office LRS | Last Best Brewing & Distilling Co. |
| Clover Crossing Liquor store | One 20 Pub | Petris Liquor |